How this is provided.   (Procedure 1)
First, you will need to purchase and install VMWARE Fusion 6 from the VMWARE Website (http://www.vmware.com) It costs as low as $15 and as much as $60. Google Purchase VMWARE Fusion 6 to find the best price. Keep in mind that this package will only install in a MAC running OS X 10.7.0 or above. Click your Apple Icon and click About This Mac and your version number will be displayed.
Second, we will prepare the following items.
1. A 16GB thumb drive which contains a Windows 7 Home Premium SP1 version of a virtual machine which will run under VMWARE Fusion. This virtual machine is already loaded with the latest versions of the Glasses Inventory and Glasses Reader programs. It has a copy of the usage guide along with instructions of how to load your inventory files. Practice inventory files are included.
2. Step-by-step graphical installation and setup instructions.
3. A legal key to the windows 7 Home Premium license.
Third, we will send you an invoice for the above items. The cost of this (including the Glasses Programs) will be $120 for the Windows 7 version (including shipping). This excludes the cost of VMWARE Fusion 6 mentioned above.
Procedure 2.
The second approach is to use a MACBOOK procedure introduced recently called "BootCamp" that is part of the MacOS so you don't have to install it.    This allows you to run a single Windows 10 virtual machine on the MACBOOK.  Here is how to set it up:
Below are links to tell you more about it and show you exactly how you do it. Something that I did learn as I was installing on my mac was that you have to use the windows 10 April 2018 update version. The October version will not work. Let me know if you have any questions.
Bootcamp
https://support.apple.com/boot-camp
Instructions
How to install Windows 10 on a Mac using Boot Camp Assistant
Below is what it looks like running on a MAC.
<![if !vml]>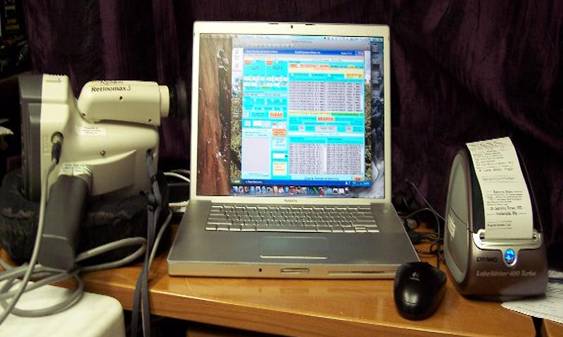 <![endif]>